MANILA, Philippines – Fashion-forward icons and go-getting Filipinas Jess Wilson, Mari Jasmine, and Tracianne Estrada have been selected by fashion brand harlan + holden to be a part of its first global campaign "Ain't Got Time For That". The trio were chosen as one of the harlan + people characters from around the world whose stories about embracing the time-saving mindset will be featured by the brand.
As we hustle and bustle through life, we can sometimes lose focus on what's important that we forget to live in the present and in the moment. What we do today defines us and, with our current at-home situation, it's all the more important that we do the best we can with the time we have each day. This philosophy encourages us to reprioritize and declutter our lives from the little things that shouldn't matter because life opens up when you take the time for what truly does. harlan + people aims to share inspirational stories of admirable men and women who value their time and are making the most out of it. The series was kickstarted in the fashion capitals of Milan and Bergamo in Italy, and has been localized in the Philippines, Indonesia, and Korea.
"The images of our harlan + people capture everyday moments, along with the use of our product and catchy message that relates to each individual's personality. It follows a positive vision of the world, from a young generation point of view, that perfectly goes hand in hand with the harlan + holden 'Ain't Got Time For That' manifesto," said Alessandra Facchinetti, Creative Director of harlan + holden.
The newest harlan + people from the Philippines 
From Milan to Manila, harlan + people are accomplished individuals who are optimistic, authentic, inspiring, and real. Those chosen for this campaign are confident personalities who get things done, leading fulfilling lives in interesting times as artisans and athletes, executives and creatives, entrepreneurs and social media stars. Most of all, they are mindful of how they spend their time and want every single moment to count, never losing focus on what truly matters. Learn more about your Filipina harlan + people below.
Jess Wilson
British-Filipina "It Girl" and entrepreneur Jess Wilson turned her lipstick obsession into an overnight sensation when she co-founded local cosmetics brand and cult phenomenon Sunnies Face. A seasoned traveler with a soft spot for the sea, Jess is the epitome of an easy and elegant jet-set style that can look romantic, classic, and comfortable all at once. At a young age, she was taught a valuable lesson from the strong-willed women of her maternity clan: investing time in vanity is a healthy exercise in empowerment and self-esteem.
"I greatly value authenticity and sharing time with the people I love. I like to experiment with my style and I always go for something romantic, classic, and comfortable. More than anything, I value versatility and comfortability with the clothes that I wear," said Wilson.
Mari Jasmine
Mari Jasmine is an entrepreneur who is more than just a content creator. As the co-founder of SORA, she leads the creative direction and artist collaborations to sell sustainable towels made from recycled plastic waste. A proud advocate for LGBTQ+ rights and a nature-loving yogi, the socially-conscious and liberal-minded Mari is determined to use her influence for the better all while splitting time between Manila and the land down under. Grounded and unfazed by fame, she has little time for fancy frocks or frilly tops, and veers more towards the versatile and fluid.
"As an entrepreneur, I need to constantly evolve and my lifestyle needs to be flexible. The pandemic has definitely shifted my wardrobe into one that is more comfort based, with pieces that are easy to move around in. I've always gravitated towards more timeless styles with interesting silhouettes over more trendy pieces that push boundaries," said Jasmine.
Tracianne Estrada
Tracianne Estrada defines summer as a state of mind and a never-ending season. When she's not chasing early-morning swells or riding her longboard down the winding roads of La Union, this media-savvy free spirit keeps herself busy running Float, a body-positive swimwear label, and dessert shop La Gula. Sporty yet style-conscious, she prefers to keep her everyday wardrobe real and refreshingly raw, ready for serious business calls over Zoom and salty romps on the beach. Tracianne's eternally sunny collection of time-saving pieces is always ready for today's meeting or tomorrow's adventure.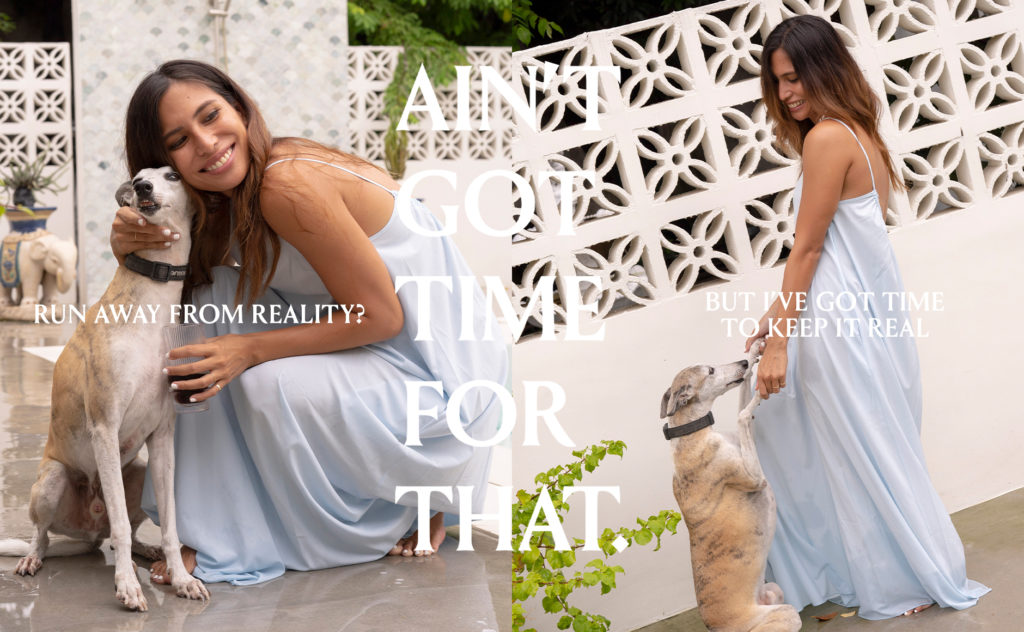 "I am focused on my present and I always thrive in the moment. I try to emulate my mantra in every detail of my life, including how I choose my wardrobe. I wear clothes that make me feel confident and stylish in the most effortless and attainable way possible. Light and breezy items dominate my wardrobe choices from day to night since my daily life is full of activities that require my attention," said Estrada.
To know more about other harlan + people characters and to get their look from the new harlan + holden 02 collection, visit www.harlanholden.ph and follow @harlanholden on Instagram and Facebook.