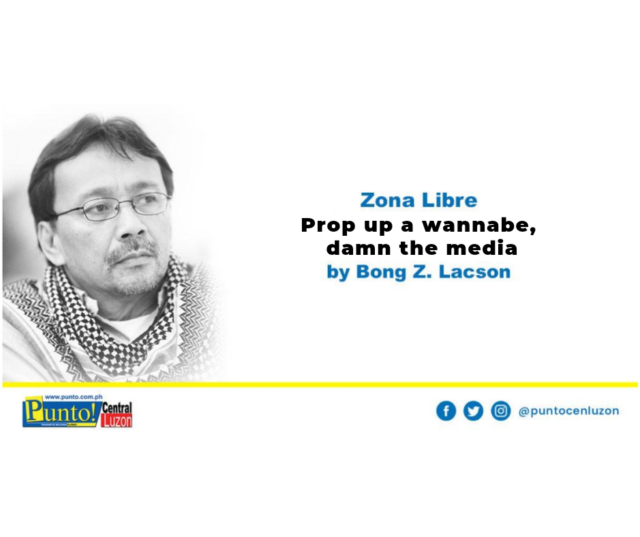 SHARED IN my Facebook page was an open letter urging Angeles City councilor Amos Rivera to run for city mayor in 2022, posted over the weekend in the FB page of Joy L. Cruz, "former Heritage, Culture and Arts Officer of the Angeles City Tourism Office (2010-June 30, 2019), former Executive Director, Kuliat Foundation Inc. (2009-2016), among others.
"You are the only candidate that truly embodies public service," wrote Cruz of Rivera, the only one she sees as having the heart and the strength to change the system. 
"You check all the boxes of my ideal leader for this city," she said, citing what she considers as Rivera's virtues making him the perfect mayoralty candidate. As much as a virtual candidate for sainthood, going by her drift. 
There is absolutely nothing wrong with Cruz's enthusiastic endorsement of her candidate. She is well within her right in doing so. She should have just stayed at her encomia of her hero though.
But no, the goodness, aye, that "bestness," of Rivera over and above all others needed to shine brighter. Hence, the utter damnation of the current city administration: "The people are not receiving their rights (sic) from the government, the truth is being suppressed, many from the media are paid to hide the truth…"
Of the government, I take no issue. It can defend itself. 
But there was a scathing general indictment of the local media. And I said so in my comment to her post, asking her to "name names, damn the damnable, spare the innocent, provide proofs of her accusation."
Her reply: she took down the post. 
Having circulated in the web, only God knows – okay Google and FB too – how many had read that post before its takedown. The harm has clearly been done. It cannot be undone by simply expunging it from the page.  
So, I shall continue to hound Cruz with the challenge to identify "the many from the media paid to hide the truth," whoever paid them, and to reveal whatever that truth they hid.
Else, she would be nothing to me but a sycophant lying to ingratiate herself to a prospective patron.   
Already, city hall habitues have tossed my way morsels of information relating to cancelled food concessions, discovered overpriced purchases, and hostile employment severance, as the proverbial axes to grind against the current city administration. 
No. I refuse to dignify these hearsays, absent any indubitable proof, read: documentary, as in subpoena duces tecum of legalese. Otherwise, I would be just going down the level of Cruz making reckless shotgun accusations.
Of course, Cruz can just disregard my challenge to her as easily as she took down her post and think nothing of it. 
Be forewarned then, Amos Rivera and all other candidates Cruz would publicly support this coming 2022 elections : I shall tag you all as "ENDORSED BY A LYING SYCOPHANT."