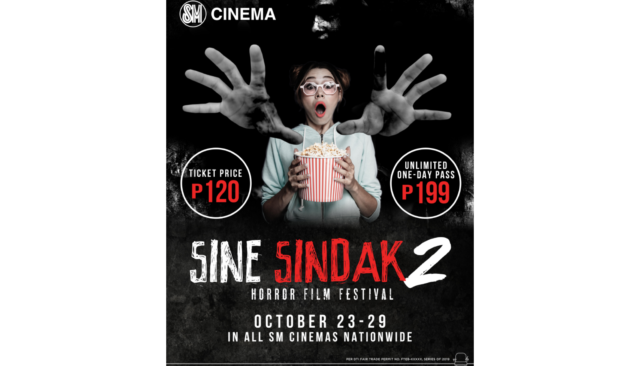 (Avail of Sine Sindak 2 unlimited all-day pass for only Php 199 or watch a single movie for Php 120.)
SM Cinema's very own Sine Sindak Horror Film Festival is back for its second run with five curated movie titles courtesy of Crystalsky Multimedia Inc., the Dead Sight, Evil's Curse, Door Lock, The Only Mom and Look Away starting October 23 until October 29 at all SM Cinema branches.
In Deadsight, a partially blind man and a pregnant officer work together to escape their town through swarms of the living dead. A holiday romance gone wrong, Evil's Curse is the story of a young backpacker falls in love with a girl who is possessed by demons. Doorlock is a creepy story about a woman's escape and struggle from a stalker. In The Only Mom, a family moves into a haunted colonial-house and finds their lives turning upside down. An alienated and awkward high school girl finds her sinister alter-ego in the mirror in Look Away.
Moviegoers can avail of Sine Sindak 2's unlimited all-day pass for only Php 199 or watch a single movie for Php 120. SM Cinema's Snack Time is also offering promos exclusive to Sine Sindak 2. Moviegoers who will avail of Sine Sindak 2 movies are entitled to Php199 Popcorn Bucket and Large drink combo. A special promo is also offered via the GrabPay App. Single-movie tickets can be availed through GrabPay for only P99.
Catch the Sine Sindak 2 Horror Film Festival from October 23 to 29 in all SM Cinema branches nationwide. Book your tickets through the website, www.smcinema.com or download the SM Cinema mobile app. You may also follow SMCinema on Facebook and @SM_Cinema on Instagram for updates! Satisfy your cravings at Snack Time, the official food concessionaire of SM Cinema, which offers a wide array of snack like popcorn, hotdogs and burgers to complement your movie watching experience. Follow SnackTimeOfficial on Facebook for more information.