Jess Malabanan lying in state at the Trinidad Village chapel
---
CITY OF SAN FERNANDO – No rest in peace, not as yet, justice much less, for Jesus "Jess" Malabanan killed in cold blood on Dec. 8, national holiday in the country dedicated to the Feast of the Immaculate Conception.
From his residence in Calbayog City in Samar where Malabanan was shot dead, his remains arrived Sunday for the wake at the chapel of Trinidad Village in Calbutbut, Bacolor town where he established his home since coming to Pampanga and made his name in local journalism.
Poor Malabanan. The search to find justice for his death has become no less than a tug-of-war among those professing to leave no stone unturned until the ends of justice are served.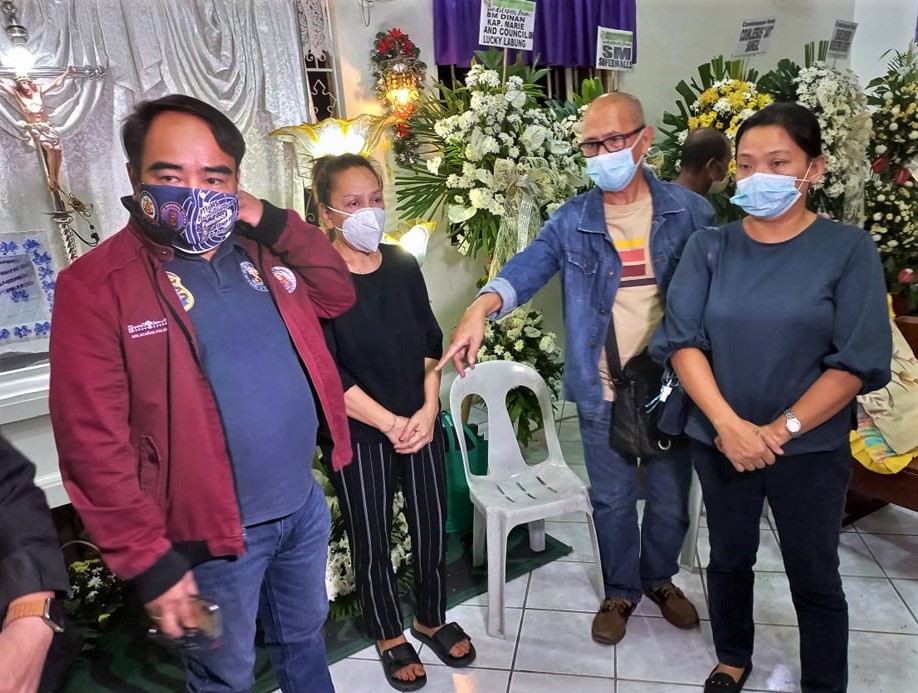 'Definitely not work related'
Thus, declared the PNP special investigation task group created to probe the murder of Malabanan during a case conference called upon by the Presidential Task Force on Media Security headed by Undersecretary Joel Sy Egco last Monday. Egco is a personal friend of Malabanan having worked with him at the Manila Standard.
Created by President Duterte in 2016, it is the mandate of the PTFoMS to safeguard press freedom by protecting the life, liberty and security of media workers. The task force considers all forms of violence against media people to be work-related until further investigation proves otherwise.
Col. Jonathan A. Cabal, PRO-8 deputy regional director for operations, reported that the "biggest possible motive for the killing" was a dispute over a very large tract of land in Calbayog, based on the information culled from affidavits duly subscribed by various witnesses.
"We are on the right track. It is safe to say that the killing is not work related," Cabal said during the conference.
"The SITG found out that Malabanan led and represented a group of claimants over the property and had protested the recent sale of a portion thereof to a local buyer. There was even a heated argument between the parties during a previous meeting with barangay officials," a PTFoMS release said.
Egco commended the SITG for the preliminary report on the incident and said that he has "complete trust and confidence" in the men and women from PRO-8 that they will "find and arrest" the killers of Malabanan.
He said that the SITG's revelation is completely in line with the information he received earlier from friends and colleagues of Malabanan that the incident may not be related to his work as a reporter since the victim did not have any known enemies in Pampanga where he was based.
'Insult to journalists'
So headlined Manila Standard in its editorial on Monday, with the lead: "A former media practitioner himself, Undersecretary Joel Egco should know better."
"To reach his assessment of Malabanan's work, Egco did not reach out to any member of the Manila Standard's news desk in any official manner. Nor did he or any member of his task force seek out our editors for comment on Malabanan's work. Had he done his job, he would have known that Malabanan wrote about this administration's bloody war on drugs, among other topics that can only "feel good" to killers," furthered the editorial.
It cited journalist Manny Mogato as having recognized Malabanan's help in the coverage of the drug war for which his Reuters team won a Pulitzer in 2018.
"Reuters in fact helped Malabanan hide in Samar after he received threats; Malabanan also sought the help of the task force in the same year, over security concerns. Why, then, would somebody who wrote feel-good stories resort to these measures?" it said.
Furthered that: "Nobody is boasting that media practitioners are getting killed here. We are ashamed of this. We are making our outrage known, and hoping we would have leaders who would care enough to act decisively on this."
"We reject the Palace narrative that all is well and that journalists are finally safe, because this is an insult to our colleagues who have been killed, and to all journalists who are still fighting daily, big and small battles, just to do their job." The editorial concluded.
'The real insult to journalists'
Egco's quick retort in his Facebook page:
"Visited the wake of kuyang Jess Jesus Yutrago Malabanan in Pampanga to personally extend Malacanang's condolences and a little support.
Mrs. Mila Malabanan is hoping Jess' employer will extend assistance too. Or call the grieving widow man lang.
Sana meron man lang death benefits.
Sa halip na kaming mga tumutulong ang tuligsain, 'yung mga masasamang tao dapat ang pagtulungang habulin at panagutin.
Sobrang OA naman 'yung "emerging narrative". Tapos ilang taon nagtrabaho 'yung tao ng walang bayad? INSULTO!
Pass the Media Workers Welfare Act now!
Sana makarating ito sa management ng dyaryo ni Jess. Lalo na dun sa top boss nila na si Rollie.
I reject your fake narrative! Ayusin niyo muna mga benepisyo ng mga tao ninyo. Start with the widow of Jess."
Meanwhile, the Pampanga Press Club, of which Malabanan has served as director, has reiterated its call for "expeditious measures" from the law enforcement authorities to bring the killers to justice. With media reports