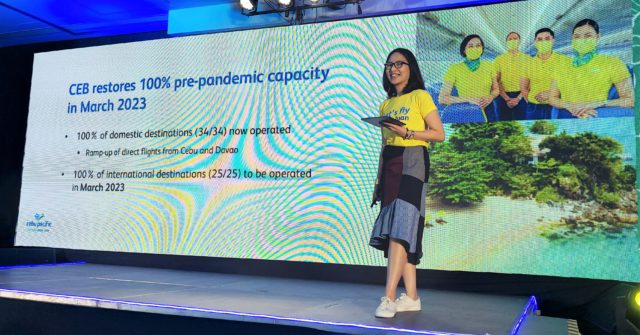 MAKATI CITY — Cebu Pacific is back to 100% in its pre-pandemic capacity and the destinations it serves.
"We are back. It is so good to be back… We have restored 34 of our 34 domestic flights and 25 of our 25 international flights." 
So announced Candice Iyog, CEB chief marketing and customer experience officer, in a media conference on Jan. 25 at the Ayala Musuem here.

"International flights were harder to recover and it took us some time but now, we can see relaxing traveling requirements," she said. "We can say that we expect to see significant growth coming from our international network in 2023."
In 2022, CEB flew some 15 million passengers compared to only 3.3 million in 2021. Iyog cited 2022 as the year CEB "cautiously but at the same time optimistically rebuilt its network."

For his part, CEB president and chief commercial officer Alexander Lao said that emerging out of the pandemic, the company is "on its way to full recovery and profitability this 2023."

He noted that flights are now averaging a little over 350 per day which is pretty close to its pre-pandemic level of 380 to 420 flights per day.

"Domestic capacity exceeded the resumption of the pre-pandemic level while almost all of our international destinations have reopened," he enthused.

Lao said that by March this year, CEB will fully restore its flights to all its 25 international destinations in 14 countries. That optimism buoyed up by its unbeatable seat sales, widest domestic network, and the easing of travel requirements in most countries.
CEB said there are no more pandemic-related travel requirements in Bangkok and Taiwan. No more tests are required prior to travel in South Korea, Japan, and Australia. No more quarantine requirement going to Hong Kong, Macau, and China.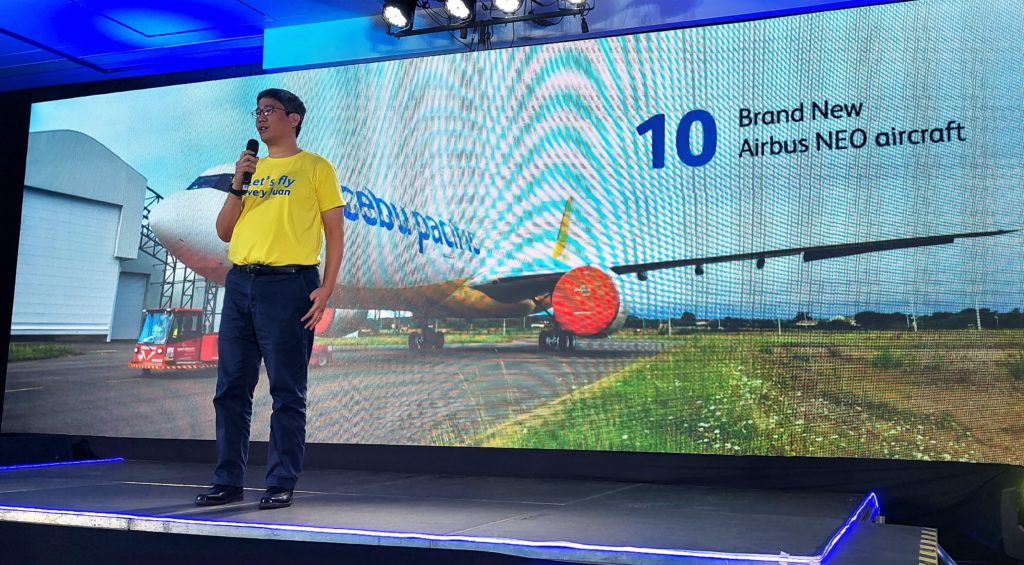 No new destinations though are in the offing for CEB this year: "Our priority is to bring back all the flights we have suspended," Iyog said.

Lao also announced CEB will take deliveries of 10 new engine option Airbus aircraft this year: three A320neo, three A321neo, and four A330neo.
He added that the airline's use of sustainable aviation fuel (SAF) will not only a hedge amid the rising cost of fuel but will also help the aviation industry reduce its carbon emissions.
CEB is offering a special seat sale from Jan. 27 to 31, 2023, allowing Filipinos to fly internationally for as low as P499 one-way base fare. Select domestic destinations are on sale too, all with a travel period of June 1 to Nov. 30, 2023.