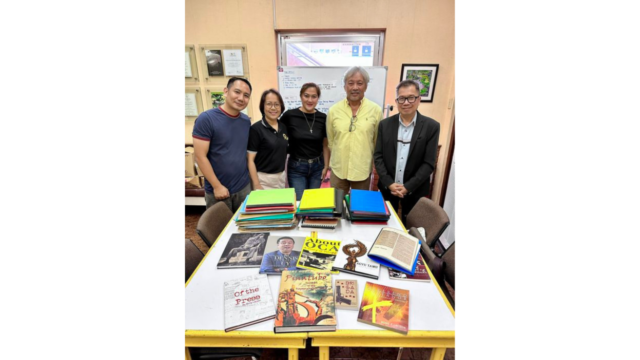 ANGELES CITY – The body of work of Punto Central Luzon editor Caesar "Bong" Lacson as a working journalist from the 1970s up to the present day were donated on Friday, June 2, to the Center for Kapampangan Studies (CKS) of the Holy Angel University here.
CKS director Robby Tantingco personally received from Lacson copies of the nine books he authored, hundreds of newspaper columns and articles he wrote in various local and national publications, and scores of lectures and communication plans he crafted.  
The books are Of the Press (1999), a history of the Pampanga Press Club from its foundation in 1949 until 1999; Brigada .45 (2004), on the insurgency war in Pampanga and Angeles City in the last three years of the 1980s; About Oca: A Story of Struggle (2005) and its Tagalog edition Oca: Isang Istorya ng Pakikibaka (2006), a proto-bio of Atty. Oscar S. Rodriguez, who served as multi-term Pampanga 3rd District congressman and City of San Fernando mayor; Pinatubo: Triumph of the Kapampangan Spirit (2007), on the devastation wrought by the Pinatubo eruptions and the rise of the Kapampangan from it; Reverend Governor: A Chronicle of Irreverence (2009), on Rev. Fr. Ed Panlilio, the first Catholic priest elected governor of a province in the Philippines; Agyu Tamu: Turning Tragedy into Triumph (2011), the Angeles City Pinatubo story; Our Dennis Anthony H. Uy: Angeles City's Own Mogul (2020), the celebrated co-founder and CEO of Converge ICT, one of the biggest communications company in the Philippines today; and Cong Tarzan Lazatin: A Public Life (2021), a bio of the former multi-term congressman and first-ever three-term mayor of Angeles City.
The other donations of Lacson comprised clippings of editorials, columns, features and news stories he wrote for publications that included the long defunct Town Crier, Luzon Herald Tribune, The Angeles Sun, Luzon Banner, Pampanga News, Headline Manila, and Sun-Star Clark, and the still extant The Voice, Pampanga Newsweek, Sun-Star Pampanga, Angeles Observer, and Mabuhay.  
Lacson's later columns that appear in Punto! under Zona Libre can be accessed at acaesar.blogspot.com (for the period 2006-2014), pulitikaatibapa.blogspot.com (2014-2015), and peryodikit.blogspot.com (2015-to date).
"The Center for Kapampangan Studies is honored to open a section in its library for the Caesar Z. Lacson Collection so that future students and researchers will have access to the period in Kapampangan history that he recorded and will continue enjoying his unique and eloquent writing style," said Tantingco on his Facebook page, calling Lacson "the dean of Kapampangan journalists."
The editor, in turn, expressed his gratitude to the CKS for "according me the highest honor a cabalen can ever aspire for – a niche in the very repository of the Kapampangan soul."  
Also thanking the center for this feat was Consul General Elmer Cato of the Philippine Consulate in Milan, Italy who is a former journalist and editor himself.  On his Facebook page the consul wrote: "Unless we tell them, stories such as what Bong Lacson shared with us will be lost forever. I was with him and others in writing those stories that can now be found only in the fading pages of defunct newspapers that many of us no longer have access to."
"Bong was able to share his stories in the many books that he was able to write and we are thankful to CKS for giving him space to share his stories with us and future generations of Kapampangans," he added. Punto News Team