CEBU CITY – No single nova but a galaxy all its own in the dazzling firmament of travel, tour, entertainment, gaming, and not the least gastronomy.
That is Nustar Resort and Casino, the premier 5-star integrated resort of the city and its eponymous province, in all of the Visayas and Mindanao, and one of the select fewer-than-few in the whole Philippines.  
Nustar is luxury defined right at its very portals of glass, granite and marble; magnificent crystal chandeliers hanging from its high ceilings, an expansive lobby so predominantly golden that Midas could have crafted it himself, and here and there, fine objets d'art and paintings. 
Global brands – from haute couture to luxe jewelry and all shibboleths of wealth – level up shopping in style at The Mall. 
The Casino: Vegas' tackiness absent in its vastness – 250 tables, 1,500 machines on 21,000 square meters – and still stylishly elegant though sans the old world charm of Monte Carlo.    
Premier Cinemas, reputed to be Cebu's most luxurious and state-of-the-art with 3D technology and a cutting-edge laser projection system for the total movie experience.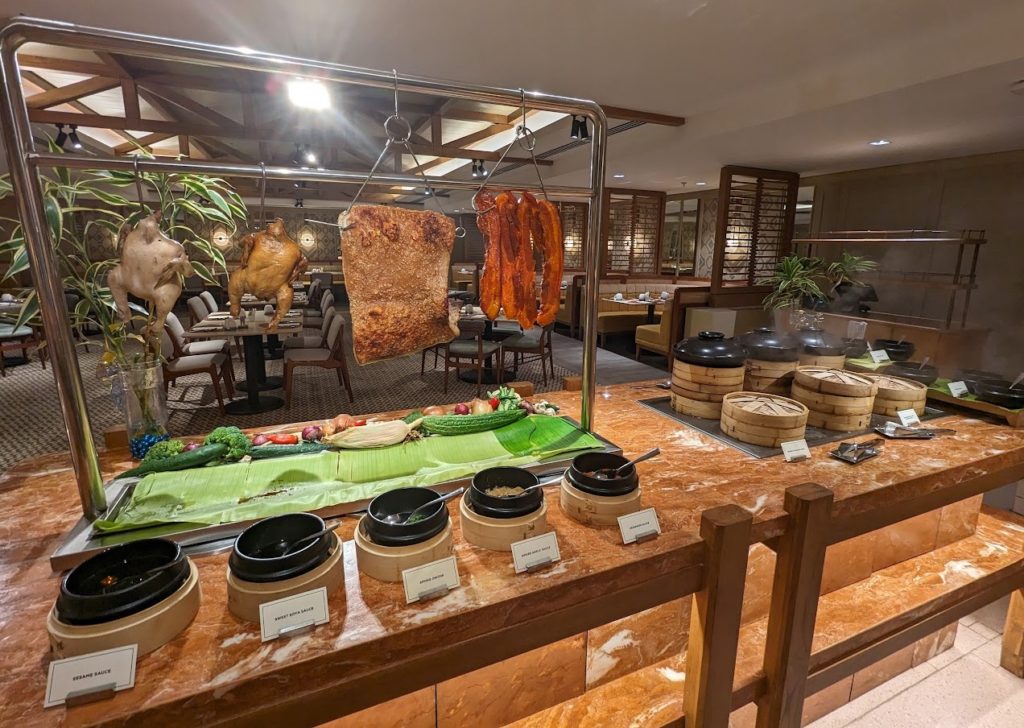 Food, glorious food! Filipino, Asian, American, European all under one roof but with a diversity of ambiance peculiar to that of the provenance.  
Fili Café, a buffet of international and regional Filipino cuisines.
Fina, classic and heirloom dishes from Cebu primarily, as well as other culinary centers of the country.  
Café Laguna, authentic Filipino favorites like kare-kare, puto bumbong, and lumpia.  
Xin Tian Di, heavenly southern Chinese and southeast Asian culinary delights most fitting for the English translation of its name, "New Heaven and Earth."
Mott 32, in tribute to the famous convenience store on 32 Mott Street in New York City, serving a modern take on Chinese cuisine. 
Kazuwa Prime, umami!
Kozima by Nonki, oishi!
Barcino, dedicated to Spanish gastronomy complemented by an extensive wine list.
Il Primo, Cebu's very first Italian steakhouse. Squisito! Che buono! 
Axis, entertainment and sports bar for live entertainment and nightly shows with the city's best-curated wines, spirits, and cocktails. 
Abaca Baking Company, for the finest all-butter croissants, pastries and baked goods in all of Metro Cebu.
Fili Lobby Lounge, for coffee goodness, sweet desserts, fresh sandwiches. 
Who'd seek for more?
Aye, Nustar Resort and Casino is a complete destination of delight in itself. 
Fili Hotel 
An ambiance of opulence and sophistication permeating Fili – from its tastefully-appointed rooms, ocean vistas, sundecks and pools to fine dining and the impressive standard of service of its staff – indeed befits its being the very first Filipino 5-Star luxury hotel brand. 
Filipino hospitality not only on display but lived up to the full, for the grandest stay. Hotelcation finding its very meaning there.   
As one good thing deserves another, soon to open is Nustar Hotel, with the promise to even redefine ultra-luxury. 
Now, that's one promise to experience. Bong Z. Lacson 
(Nustar Resort and Casino is but an hour hop from the Clark International Airport via Cebu Pacific, daily)